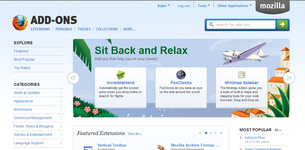 Nowadays the browser extensions shape our browsing experience. Here is a list of extensions I use in Mozilla Firefox.
I have also made public the list of my favorite addons on the Mozilla website.
Obsolete
Some extensions have become obsolete or I have started using another instead, but that doesn't mean they are not awesome anymore. :)
Ubiquity – Task-centric web browsing, awesome stuff, too bad that it's not in development anymore.
XMarks – Bookmarks synchronization – not required anymore if you use only Firefox, but can synch across browsers.
Screengrab! – Save the page as image.
Share your favorite extensions in the comments, and if you like to improve your browsing experience further have a look at my post on [permalink href="601″]Firefox quick searches[/permalink].